Did you know there are millions of jet-setting pets across the globe taking flights every year? Of course, they can't sit in first class or economy; instead, they must travel in an approved pet carrier permitted by the airline.
If you are considering taking your pet with you on your next trip, you must make sure you buy the right carrier. The last thing you want is to turn up for your flight and be turned away. Our guide covers everything you need to know to make the right choice for your pet.
The Best Airline Approved Dog Carriers


Purchasing a carrier to use on board an airplane is an important task. You want to be sure your pet will be comfortable and happy, yet you also need to make sure it fits within size restrictions.
The following carriers have been chosen because they should comply with both these considerations. As always, though, do double check requirements with your carrier prior to booking your flight. We have reviewed the following airline approved dog carriers and highlighted their most appealing points, to give you some insight into the best picks on the market today.
Mr Peanut's Airline Approved Soft-Sided Carrier
Available in a cool grey or the amusingly named deja blue, the Mr Peanut's soft-sided carrier comes with two sturdy carry handles that make transportation easy. It also has a heavy-duty shoulder strap with padded section to ease the load as you carry your pet from one area to another.
One end of the carrier zips fully open to allow your dog to easily climb in and out when required. inside, your pet will delight in the soft fleecy bed provided for their comfort. This can be hand washed or dry cleaned. The exterior of the carrier is made from military-grade nylon. This is not only simple to clean, it's waterproof too. Perfect for those sudden showers if you get caught out.
The carrier also benefits from an ID tag holder, several pockets for storing toys and treats in, and a lockable zipper. Everything you need in one convenient product.
Petmate Soft Sided Pet Kennel Carrier
Smart, practical, and affordable – and available in two colors as well, black or a taupe and mink combination. This dog carrier features tough mesh panels on the two long sides, with another mesh panel forming part of the door at one end. This fully opens to allow for easy access to the carrier. If you prefer, you can pop your pet inside via the top opening, with two zips drawing back to provide a larger opening.
There is a secure carry handle on either side of the carrier, providing an easy way to pick up the bag and move it. If you prefer, you can use the integrated shoulder strap. Either way, your pet is assured of a smooth ride.
Also included is a thick bed that is fully removable to allow for easy cleaning. The thickness of the bed ensures your pet will be comfortable during the flight. Meanwhile, the rear of the carrier includes a sizeable pocket you can use to store their treats and other essentials.
Sherpa Original Deluxe Pet Carrier
The original and best? This carrier comes in three size options, some of which are approved by some airlines and not others. Check prior to purchase to see which airlines accept it and which carrier size would suit your pet.
If you want a carrier that includes a removable and washable liner, this one ticks that box admirably. Not only is it made from soft faux lambskin, it can also be safely popped into a washing machine.
The frame is made from spring wire, enabling your pet to enjoy more room when not on the plane. It can then be pushed down on top to lower the height of the carrier, so it fits underneath the plane seat. The large mesh panels are ideal if your dog likes to see what is going on.
You can easily carry it using the handles provided or the shoulder strap. If you use it in the car, you'll appreciate the seatbelt strap included in the design.
Pawfect Pets Premium Soft-Sided Dog Carrier
If you are looking for a premium design, this tough polyester dog carrier is just what you've been looking for. The top opens to allow you to introduce your pet to the carrier that way, or you can open one end and allow them to walk straight in. Both ends open, which means you won't end up in an awkward position turning around the carrier to reach your pet.
The side has a small opening so you can safely reach in to fuss your dog during travel, yet the opening is not large enough to risk them escaping. There is a convenient treat pocket built into the design too… and it is right underneath that small opening.
Better still is the addition of not one but two removable fleece liners. That means your carrier can always be ready to go, even when one liner is in the wash.
Bergan Voyager Carrier
Available in a choice of three color options, the Bergan Voyager is designed to bring supreme comfort to your pet on a flight or car journey. It comes with a seatbelt loop if required, while the zippers lock in position to ensure your pooch cannot perform a great escape.
They probably won't want to though thanks to the soft fleecy bed they'll find inside. This is removable to guarantee easy washing for the next journey. The end of the carrier opens fully, so you can either pop your pet inside that way or zip open the top to put them in before safely closing it again.
Several storage pockets are provided, along with a special area for poo bags to be stored and removed one at a time as required. This makes it much easier to take care of your pet while you are on the move.
Guide to Choosing a Pet Carrier for Airline Travel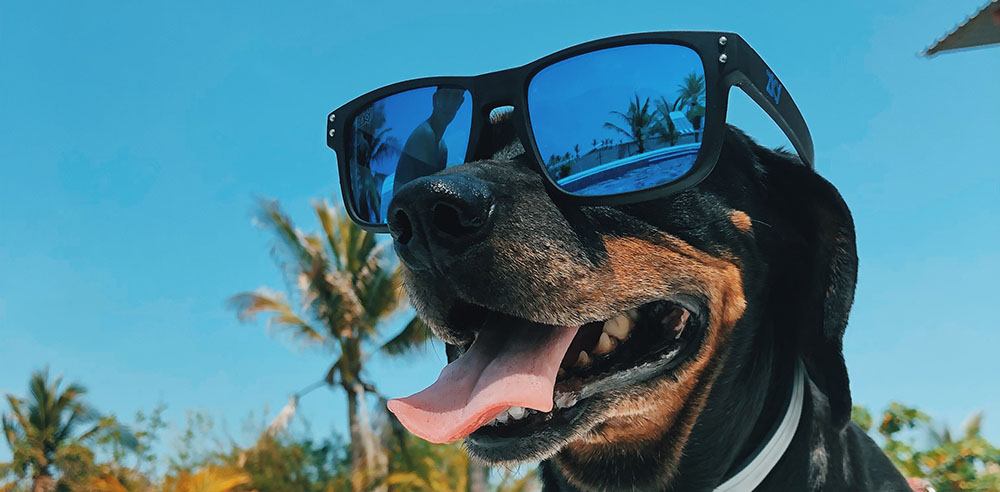 Do you miss your pet when you go on holiday? Have you ever wished you could take them with you?
Hiking holidays are oh so much better with your faithful dog by your side. The same applies to cross-country trips to see family or even just weekends away. Taking them in the car is easy. However, what do you do if you are planning to fly?
How can your pet fly?
The first thing to note is that there are two ways for your pet to fly with you:
In the plane's hold
In the cabin with you
Some dogs will be too big to travel in the cabin, thereby restricting them to the hold. However, small dogs can travel in an approved dog carrier that will fit underneath the seat in front of your own. Those are the carriers we are going to cover in this guide.
It's important to note that not even small dogs are permitted in the cabin on long-haul flights. In this case, a carrier designed for the hold should be purchased.
Top tip: Not all airlines have the same policies regarding pets
Some may allow pet carriers in the cabin during short-haul flights while others may not. The measurements of approved carriers may also vary between operators. Always check the current regulations prior to booking your flights. It is advisable to do this even if you have flown with your pet using the same airline before.
No one wants to find out about any changes when they arrive at the airport ready to board with their pooch.
What should you look for in a dog carrier suited for cabin travel?

You'll soon see these carriers come in all kinds of designs, even though the sizing is always much the same for obvious reasons. There is plenty of room for different styles and appearances, but you should always make sure the most important practical features are taken care of.
Here are some of the practical elements to look for when shopping for a dog carrier:
Airline recommended – this means the carrier has been approved by some airlines (but possibly not all). It gives you peace of mind that it is suitable for use on an airline… although as we mentioned earlier, you should always double check.
Carry handles or straps – lots of pet carriers have two sturdy handles so you can easily carry the bag from home to the car, from the car to the airport, and so on. Some also have shoulder straps to make it easier to carry the bag in multiple ways.
Mesh for ventilation – this is crucial as you want to be sure your pooch is comfortable during the flight. They will not be permitted to get out of the bag while on the plane. The mesh design allows air to freely flow in and out of the bag, with no need to undo any fastenings. Make sure the mesh is rip-proof too… just in case.
Secure fastenings – some pets will happily get into their carriers and not attempt to escape. Others will nibble away at the fastenings or push against them to try and get out. If that's the case with your pet, zips are the best idea.
Washable liner – while you won't need to worry about this until you get to your destination, a washable liner you can easily remove is a good choice. You can make sure it is fresh and ready to go the next time you use the carrier.
Pockets – most carriers feature one or two pockets on the outside. These provide space to keep some doggy treats and food or other essentials in the bag with your pet, without them being able to access the items on their own.
Lightweight – let's not forget your little bundle of joy is going to be inside the carrier. The last thing you want is for the carrier itself to be heavy. The ideal combo is a lightweight design that is made from robust materials designed to safeguard your pet during travel.
Remember, these carriers are designed for travel in cars too. This means you can look forward to lots of use from it if you purchase the right one. Some come with a loop included in the design that allows the seatbelt to be easily threaded through it for safety.
Pets should always be safely secured in cars – it's the law. Buying a pet carrier approved for airline travel also gives you the ideal way to comply with the law to keep them secure during car travel. Perfect!
Which materials are used to make soft airline pet carriers?

When you start looking around for these dog carriers, you'll notice the same materials are used over and again to create the finished products. Look for these materials to ensure you have the best quality product you can rely on:
Nylon – this is lightweight, easy to wipe clean, and strong, so it fulfills everything you will be looking for in your carrier
Polyester – this is sometimes used in conjunction with nylon and sometimes instead of it, for the same reasons mentioned above
Rip-proof mesh – not all mesh is created equal. Look for a carrier with mesh that has been designed to withstand a dog chewing on it to try and escape. Being in the cabin with your pooch getting ready for take-off is not the time to discover you chose the wrong mesh!
Lockable zippers – zips are better than any other closure for keeping your pet safe. Some are lockable, providing you with even more security.
Washable bedding – while you can put your own choice of bedding inside the carrier for your pet to sleep on, good carriers come with a removable bed inside. This is often fleecy and quick to wash and dry.
Buy a carrier that is best for your pet
When you are evaluating different carriers, think about your pet's disposition too. Some dogs like to be able to see their owners and to see what is going on around them. They may feel more secure if they can get a good view of things. Others may feel happier with more privacy. They may want to see you but would be delighted not to be spotted by anyone else.
Think about which category your dog falls into. Some flight carriers have far more mesh panels for seeing out of than others. Some may have large panels at either end with only small panels across the top of each side, for instance. Consider which option your pet is likely to prefer before you make your choice.
Finally, be sure to introduce your dog to the pet carrier well ahead of your flight. You want them to feel happy and at home in it. Leave it in view and open it to allow them to climb in when they feel ready to. Don't rush it – let them explore in their own time. Put a treat in there and praise them when they go and get it.
By the time your flight approaches, you and your pet will be ready to travel in style and with the least amount of stress too. That should make for a more relaxing flight for you both.
Conclusion
Have pet, will travel… and today, many people do just that. Taking your dog on holiday with you is not impossible, even if you intend to fly.
On a short-haul flight, many airlines are happy for you to keep your dog with you, tucked under the seat in front in an approved carrier. The above options are all suited for this purpose. One might be just the comfy home from home your dog would be happy with.
Traveling in style isn't just for us humans, you know. Isn't it reassuring to know your pet can travel the same way?
Did you find this article helpful?