Think of fish and you likely think of fishy breath and that strong fishy flavour not everyone likes. Yet these oils are supposed to be good for us – and they're good for our dogs too.
We've dived into the fishy world of fish oil supplements, specifically designed for dogs and their health needs. One thing we soon realised was the huge array of supplements you can choose from. Perhaps one of the following products will enhance the health of your pet. Our in-depth reviews are designed to reveal all you need to know.
We recommend..
3 items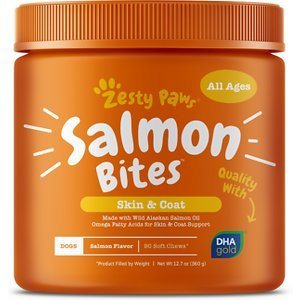 Best Overall
Zesty Paws Omega-3 Salmon Bites EPA Dog Chews
Check Current Price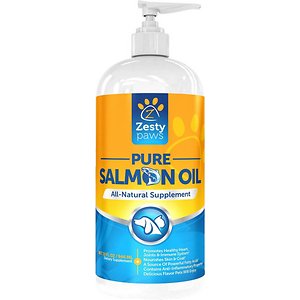 Best For Coat Health
Zesty Paws Pure Salmon Oil Skin & Coat Support Dog Supplement
Check Current Price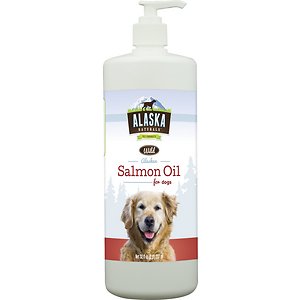 Best Budget Option
Alaska Naturals Wild Alaskan Salmon Oil Natural Dog Supplement
Check Current Price
How can you tell how much fish oil your pet should have each day? Looking for appropriate amounts in complete foods isn't easy. Hence why a supplement makes good sense. You need only feed your dog one treat or tablet a day to give him all he needs to thrive.
The following products come from reliable brands and offer various ways of introducing the oils to his diet. Consider which one would be most appealing to your pet before making your purchase.
The Best Fish Oil For Dogs
1. Zesty Paws Omega-3 Salmon Bites EPA Dog Chews
Even the name Zesty Paws sounds tasty. These salmon bites are made with Wild Alaskan salmon oil, so you're getting a great quality product from a natural source. Both Omega-6 and Omega-3 fatty acids are included. The pack contains 90 mouth-watering treats, complete with a feeding guide printed on the back of the tub. Depending on weight, it recommends between one and three chews per day to get the appropriate amount of fish oils.
The pack also has several other advantages that may be important for you. For instance, there are no grains included, so if your dog suffers from grain allergies, he'll be fine with these. No corn or soy-derived products are included either. They also have no artificial flavourings or preservatives, ensuring you are purchasing a high-quality source of fish oils to use as a daily supplement. Suitable for all life stages and breeds.
2. Zesty Paws Pure Salmon Oil Skin & Coat Support Dog Supplement
This bottle of pure salmon oil is designed to improve the condition of your dog's skin and coat. It also comes in three convenient sizes – 8oz, 16oz, and 32oz. This means you can try the smallest bottle to start with. If your dog likes it and you see improvements in their health, you can save money by getting the larger bottle for better value.
The bottle comes with a pump attached to help you dispense the right amount of liquid each day. The back of the bottle reveals how many pumps to dispense according to the weight of your dog. This makes the pack very easy and convenient to use. Just hold the pump over your dog's food and dispense the right amount.
The lovely salmon flavour should appeal to most dogs. The essential Omega-3 and Omega-6 fatty acids are guaranteed with each dose. Moreover, all you are getting is salmon oil – nothing else.
3. Alaska Naturals Wild Alaskan Salmon Oil Natural Dog Supplement
If you like the idea of a pump action bottle and you need a larger size, consider this Alaska Naturals supplement consisting of nothing but salmon oil and mixed tocopherols. That's one perk of buying this product, but you also have five pack sizes to choose from.
If this is your first purchase, go for the 8oz bottle to see if your dog likes it. You've then got 15.5oz, 32oz, 64oz, and even 120oz bottles to choose from. This gives you better value if you have a bigger breed that requires a larger dose each day. Each pump dose provides ½ a teaspoon. You should calculate the right amount to give your pet by assuming ½ a teaspoon per 10lb of body weight each day.
Another perk of this product is the naturally sourced Wild Alaskan salmon oils, derived from fish living in the pure waters of Alaska. About as far away from commercial fish farms as you can get.
4. Grizzly Omega Health Omega-3 Dog Supplement
Unlike some other products on the market today, this supplement from Grizzly Omega Health is suitable for both cats and dogs. Ideal if you have a family of furry friends in both categories!
Choose from three bottle sizes, each with a pump included – the 16oz, 32oz, or 64oz packs. There's nothing artificial about this pack either. You get pure salmon oil, pollock oil, and tocopherols, the latter of which are used as preservatives to make sure the oils reach you in excellent condition. Wild Alaskan salmon is used to provide this product, giving you peace of mind that your dog is getting the best natural source of oils.
The convenient pump also makes it easy to give your dog the right amount of oil each day. Dogs weighing 12.5lbs or less require ½ a pump, with other recommendations given for larger dogs weighing more. All the information you need is on the pack.
5. TerraMax Pro Premium Omega-3 Fish Oil Dog Supplement
Choose from a 16oz or 32oz bottle when you purchase this premium Omega-2 fish oil supplement. This option gives you a potent mix of fish oils from several sources – anchovies, sardines, mackerel, and herring. Nothing else is included – no bulk ingredients, fillers, or artificial flavours or colours. Feed between half a teaspoon and two teaspoons per day according to weight, with instructions given on the back of the bottle.
The TerraMax product is a practical way to introduce fish oils to your dog's food without giving them in capsule form. The simple pump makes it easy to dispense a measured amount every time. The formula is also certified to be free from mercury – a concern with many fish oil supplements, depending on where they are sourced. The fish used to create the product is sourced from Iceland and is caught in fresh cold water.
6. Nutri-Vet Fish Oil Dog Softgels
If you'd rather give your dog a daily dose without measuring pumps of fish oil, this practical alternative from Nutri-Vet could be just what you are looking for. This pack of 100 softgels requires just one to be given daily for each 30-60lbs of body weight. It means a single pack could provide up to two months of doses.
The fish oils are contained within an easy to digest softgel case made from gelatin and glycerin. Also included are vitamins A and D3, with the tocopherol used to preserve the fish oils providing some vitamin E as well.
Each softgel gives your dog a healthy dose of Omega-3 and Omega-6, formulated to ensure your dog's skin and coat look their very best. Made in the USA, you can count on the product meeting the most stringent of standards.
Everything You Need to Know When Buying Fish Oil Supplements for Your Dog

Thousands of people take fish oil supplements every day. Maybe you do, too. But have you ever thought about giving your dog a similar supplement? You probably haven't, but there are plenty of reasons why you might want to consider doing so.
We decided to create this guide to fish oil supplements for dogs, so you know why you should consider them, where to buy them, and which ones deliver what they promise. As with most products, some are way better than others. If you decide to give your dog a daily supplement of fish oils to help their health, you'll want to be sure you are investing your cash in the right product.
Hang on – wouldn't it be better to just give your dog fish?
It's a fair point, and one we should tackle before doing anything else. Firstly, some dogs hate fish. If that's the case with your pooch, they're not going to be tempted to eat any of it. Dogs are as stubborn as toddlers if they turn up their nose at some food and decide they won't eat it.
Even if your dog will happily eat fish, you need to be very careful when you feed it to them. Firstly, it should always be free from bones. If you're feeding them a proper dog food, it should be fine, but a can of fish should be checked by you prior to letting your dog eat any.
Secondly, you need to know which types of fish your dog should eat. Some are higher in mercury than others and that can be harmful for your dog just as it can be for you. Some fish is fine in small doses, but that doesn't apply to them all. Moreover, to make sure your pup is getting the goodness of the fish oils, you need to make sure they're having a decent portion of fish. Not only might they turn up their nose at it, it could well become rather expensive to maintain.
Finally, you need to be sure any fish has no salt, no pepper, no other seasonings, and no oils. It should be plain, safe, and pre-checked to ensure there are no dubious ingredients included in it.
As a bonus to think about, even if your dog loves fish, you may hate it. That fishy smell is wonderful for some humans and sends others running in the opposite direction. If you are among them, the idea of choosing a daily fish oil supplement for your dog is far more appealing than the alternative.
With all these things to remember, it's no wonder very few dog owners feed their pets fish, is it? Despite all the positives fish can have for their health, it also brings with it lots of hassle. When you think about it, it makes better sense to opt for a fish oil supplement instead. It also means your dog shouldn't have fishy breath whenever you approach them.
Main components of fish oil supplements for dogs
There are two acronyms you will regularly encounter when you go shopping for dog fish oil products:
EPA stands for eicosapentaenoic acid, hence the acronym! DHA is easier to remember too than its full name – docosahexaenoic acid. Phew! I have trouble even spelling each of those names, let alone saying them. Far better to be aware of the letters, so you can spot them on the labels of fish oil supplements for dogs.
Each of these acids has a different role to play and may provide certain benefits if taken regularly.
EPA – thought to have anti-inflammatory properties throughout the body
DHA – encourages a strong cardiovascular system and promotes the development of the brain and eyes, so it's a good one to consider for puppies
These are both Omega-3 fatty acids. No doubt you have heard of Omega-6 fatty acids too. Plenty of modern dog food tends to be high in the Omega-6 variety, so it makes sense that any supplements we choose should focus on the Omega-3 varieties instead.
What are the advantages of giving your dog a fish oil supplement?
You might be surprised how many advantages there are. We've listed the main ones here for you:
• A healthier shinier coat – all dogs look great if they have a shiny coat. If your dog's coat is dull, regular fish oil supplements might help improve things.
• Less inflammation – inflammation is thought to contribute to all kinds of diseases and conditions in humans and dogs alike. For example, joint inflammation can be very painful in conditions such as arthritis. A regular intake of healthy fish oils may help reduce this inflammation and therefore reduce pain and increase mobility too.
• A concentrated source of Omega fish oils – it seems crazy that a supplement could contain more Omega-3 fatty acids than actual fish, but it's often true. One small softgel or tablet per day gives them all the fatty acids they need – and there's no fish for you to handle either.
• A regular source of essential fatty acids – these Omega-3 acids aren't readily stored by your dog's body. A supplement given daily therefore ensures they always have good levels to benefit from.
• No need to feed smelly fish – enough said!
• Improved mobility – if your dog is more mobile, they're going to enjoy a much better life. Investing in those fish oil softgels or tablets is a small price to pay for helping your dog get around more easily and hopefully with less pain too if they suffer from joint conditions or something similar.
• Better heart health – we've seen how DHA is thought to improve the health of the cardiovascular system. This supports a longer healthier life, just as improved mobility does.
It's surprising how powerful one simple tablet or softgel per day can be, isn't it? All that goodness rolled into such a tiny package.
Are there any disadvantages to using these supplements?
In the interests of transparency, you should always consider whether a canine supplement has any downsides. There are a few elements you must be aware of before deciding whether this supplement is right for your pet.
• Dosage – always follow the correct dosage on the packet you receive. You may also wish to consult your bet for further information. The dosage is often calculated according to body weight and considers the level of both DHA and EPA.
• Its anti-inflammatory properties could potentially lead to reduced white blood cell count – white blood cells are used to combat infections. Since the omega-3 fatty acids reduce the inflammatory response, it could potentially lead to an increase in infection, making it unsuitable for dogs experiencing an illness.
• Wounds may take longer to heal – this may occur for the same reasons mentioned above, owing to the reduced white blood cell count
• Decreased clotting ability in the blood – another potential side effect of the anti-inflammatory response to fish oil supplements.
As such, it may be prudent to stop giving your dog the fish oil supplement if you know they are going to be having surgery. Speak to your vet to get advice on proper dosage and to discuss whether the benefits of these supplements outweigh any potential disadvantages for your dog.
It's also possible for some dogs to suffer from stomach upsets after ingesting these supplements. If this occurs for your dog, it's best to discontinue the supplement. Any upset should resolve itself once the supplement is removed from their diet. It's uncommon to experience such a scenario, but it can occur.
Are these supplements better for some dogs than for others?
Possibly, yes. Just as some dogs benefit from grain-free dog food or having their nails ground down by nail grinders rather than clippers, so some dogs are likely to receive greater benefits from ingesting fish oil supplements:
Puppies – we all want our puppies to get the best start in life. DHA is known to have a positive effect on cognitive function. Studies have been performed that indicate training is far easier to complete among puppies that receive a daily fish oil supplement. Worth considering.
Senior dogs – at the other end of the spectrum, we know conditions such as arthritis are more likely to develop with age. This holds true for dogs just as it does for humans. Since fish oils help reduce inflammation, it makes sense this would help improve the pain and discomfort they may feel from swollen joints.
Bigger breeds – some dogs are known to suffer from joint problems more than other breeds. For example, retrievers are susceptible to these issues. It might be prudent to introduce a daily fish oil supplement from an early age, to help support your dog's joints and general health right from the start.
Isn't it better to find a complete meal for your dog that already includes the required fish oils and other supplements?
Lots of dog foods on the market today, both wet food and dry kibble, have all manner of vitamins and minerals included in them. These are known as complete foods, as they contain everything your dog needs to thrive. Surely these contain Omega-3 and Omega-6 fish oils as well?
They certainly often contain Omega-6 oils, as we've already seen. However, they do not all contain Omega-3 fish oils. Those that do tend to be at the most expensive end of the spectrum. Furthermore, your dog may have their favourite complete food already. You may not be willing to swap them to something else. It's often easier to add a supplement instead.
You can also be sure a supplement – whether it's a simple tablet, a softgel, or even a liquid dose – has the best daily amount of fish oils your dog requires. That may not be true of any complete foods you could buy today.
Make sure you choose a product you can rely on
Look for a reliable brand name, ideally one based in the UK, the USA, or another country renowned for its strict standards in dog supplements and dog food. You should also steer clear of the cheapest products, as the fish the oils are sourced from are unlikely to be caught in the wild. Factory-farmed fish is not of good quality and can contain lots of toxins and other elements that could be harmful rather than helpful. It's another example of getting what you pay for.
Think about how you would prefer your dog to ingest the fish oils too. Some dogs think they're receiving a treat and will happily sit for a tablet or softgel. If your dog is wise to those tricks, a liquid supplement you can add to their food with a small plastic syringe kept for that job alone would be the better option. Ours hasn't cottoned onto the 'treat' trick yet, but yours may be older and wiser…
Conclusion
Now you know everything there is to know about finding the best fish oils for your dog. All that remains is to select a high-quality product made in the form that best suits your dog. That could mean a daily chew, a softgel, or liquid supplement.
Fish oils are good for most dogs, but perhaps some more than others. If your pooch suffers from stiff joints or other health problems, their life may improve with a daily dose of fish oils packed with all the goodness of those fatty acids.
Did you find this article helpful?