Choosing food for your companion can be stressful. Most owners don't know where to start when looking at the ingredients on a can of wet dog food. Some pick options that are full of low-quality ingredients and don't cater to the nutritional needs of their pup.
There's a wide range of canned foods available today, each with their own strengths and weaknesses. What you're looking for is a balanced canned diet that contains all the nutrients and high-quality ingredients they need to thrive. We think Wellness Beef Stew Grain-Free Canned Dog Food is the best canned dog food to buy because it has a high protein content and moderate fat content.
This article takes an in-depth look at the benefits of canned dog food diets, how to choose a quality one, and reviews some of the best canned dog foods to bu
We recommend..
3 items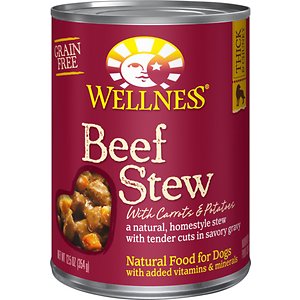 Best All Round
Wellness Beef Stew Grain-Free Canned Dog Food
Check Current Price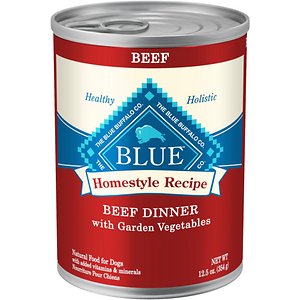 Most Affordable
Blue Buffalo Homestyle Recipe Beef Dinner Canned Dog Food
Check Current Price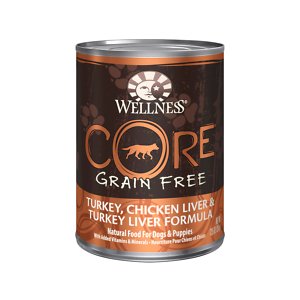 Highest Protein Content
Wellness CORE Grain-Free Turkey Canned Dog Food
Check Current Price
How To Compare Canned Dog Foods
Dog food labels can look daunting, but there are a few indicators of the quality of canned food that are easy to spot. All AAFCO approved dog foods, canned or otherwise, must display minimum crude protein and crude fat levels, along with the maximum values of crude fiber and moisture.
On labels, these required values look like this:
| | |
| --- | --- |
| CRUDE PROTEIN | 8.0% min |
| CRUDE FAT | 4.0% min |
| CRUDE FIBER | 1.0% max |
| MOISTURE | 82.0% max |
These figures are an "as-is" measurement of the food in its current form, water included.
Using these figures, we can work out the approximate levels of protein, fat, and fiber in the actual food without the water considered.
That gives us a Dry Matter Basis measurement which allows us to better compare the content of the food with other foods of different moisture contents (including dry foods!)
To do this, simply divide the nutrient percentage by 100 minus the moisture percentage:
nutrient % / (100 – moisture %)
For the Protein content in the example nutrients above, this would be:
8 / (100 – 82)
And would give us the dry matter basis protein minimum content of 44.44%.
What To Look For In A Quality Canned Diet

It's all good and well knowing how to work out what the dry matter basis nutrient levels are, but what sort of ranges are the best to look out in for wet dog foods?
The AAFCO recommends a minimum of 22.5% crude protein on a dry-matter basis, and that 80% of that protein is highly digestible. Highly digestible protein sources include fish, meat, eggs, and even some grains. The minimum fat recommendations are 8% for growth and reproduction, and 5.5% minimum crude fat on a dry-matter basis for adult maintenance levels.
You should look for canned foods that exceed these minimums, offer highly digestible proteins in the forms of real meats, all while remaining balanced. Too much of anything is usually a bad thing.
The Best Canned Dog Foods (Reviews)
1. Wellness Beef Stew Grain-Free Canned Dog Food
Did someone say beef stew? This superb recipe is almost good enough to eat yourself!
This brilliant grain-free wet dog food provides an impressive 44.4% minimum protein content on a dry-matter basis and a moderate dry-matter fat content of 22.22%. That's one of the best balances of protein and fat you'll find in any commercial dog food.
Wellness has reached this fantastic balance by placing beef, a highly digestible real-meat protein source, as the first ingredient here. Beef liver, egg whites (the most digestible protein source!), carrots, peas, and potatoes complete the stew, giving your dog a good mix of natural ingredients to aid digestion and good health.
The flavor-fest continues with rosemary, sage, and thyme added to round off the tasty meal. This outstanding wet dog food is designed to help improve the condition of their skin and coat, along with giving your dog better energy levels.
It contains biotin to nourish your dog's coat, and avoids any wheat that might otherwise trigger allergies in some dogs.
Check out the sheer amount of user accounts that say their dog seemed more energetic and happier after making the switch by clicking through above.
For a natural recipe that's packed with everything your dog needs to thrive, look no further than this Beef Stew canned food.
2. Blue Buffalo Homestyle Recipe Beef Dinner Canned Dog Food
A tasty homestyle recipe, Blue Buffalo's Homestyle range offers some of the best value canned dog food around.
You'll find a minimum of 38.64% protein and 27.27% minimum fat content on a dry-matter basis. A fairly standard fiber max-content of 6.82% tops off this well balanced canned diet.
A mouth-watering beef dinner complete with garden vegetables, it includes beef (great high-quality protein source) as the first ingredient. Beef broth and liver help raise the flavor, while carrots, peas, and sweet potatoes are sources of energy that are easy to digest.
This great formula has been 'beefed up' further with a selection of vitamins and minerals to help keep your dog healthy. B vitamins, folic acid, and amino acids provide the reassurance you need to know your pooch is getting a complete and balanced meal.
The feeding instructions for this canned diet are simple, too. Instead of providing a complex chart, Blue Buffalo has provided a simple guide.
Three-quarters to one can per day are required for each 10lbs of body weight. Once you've done the calculation, you'll know how much your dog requires moving forward.
Given how cheap and well-balanced this food is, we've had to rate it as the best value for money canned dog food available today. It's seriously worth a try.
3. Wellness CORE Grain-Free Turkey Canned Dog Food
This super high protein formula from the Wellness CORE range has earned the title of the best high-protein canned dog food. With a staggering 54.55% minimum dry-matter protein content, it's packed to the brim with all the essential building blocks your dog needs to live a healthy life.
This food's protein content is super digestible too, with Chicken, Turkey, Chicken Liver, and Turkey Liver all making up 5 of the 6 largest ingredients!
The huge amount of high-quality animal ingredients mean that fat content (36% dry-matter basis) and the calorie count (509kcal/12.5oz can) are towards the high-end here. This is accounted for in the portion sizes, so be careful to portion correctly.
With such high levels of protein and fat, this is one of the best wet dog foods for growing dogs and can be used to transition puppies onto adult food.
Wellness even half-jokingly warns to keep an eye on your dog's eating habits since the food is SO highly palatable that they'll eat more of this food than they should.
All in all, it's a fantastic high-protein wet dog food that unfortunately doesn't come cheap. Some owners use a half & half mix with another formula to help balance the cost and keep some of the benefits. In that case, this might be a dog food best used alongside another more affordable daily formula.
4. Instinct by Nature's Variety Original Wet Canned Dog Food
Instinct by Nature's Variety's Original Wet Dog Food formula is packed with animal protein to provide the nutrients dogs naturally crave. Nature's Variety has been recognized as one of the best dog food brands for years, and this food is a perfect example of why.
Rabbit and pork are the two primary ingredients, both of which are highly-digestible protein sources for your companion. They make up 95% of this brilliant formula, with vegetables, fruits, and other vitamin sources accounting for the remaining 5%.
The protein content on a dry matter basis is a minimum of 45.45%, this is a really common figure you'll see across all of the best dog food brands since it's the result of 10% crude protein (as-is) and 78% moisture.
It's a low-fat option too, with only a 13.64% minimum dry-matter basis fat content. That could make this food a contender to be the best dog food for weight loss on our list!
The formula is grain-free, containing no grains, potatoes, corn, wheat, soy, by-product meal or artificial additives. Brilliant stuff!
This affordable wet dog food is around the medium price range for canned diets, which is surprising given the quality of the ingredients used. We'd highly recommend this as one of the best wet dog food options for owners who love a grain-free approach with a heavy focus on animal protein ingredients.
5. Blue Wilderness Turkey & Chicken Canned Dog Food
Here's a fantastic affordable wet dog food from Blue Buffalo's Wilderness range. We've long been fans of their dry dog food products, and consider them to be one of the best dog food brands in today's market.
With turkey and chicken as the main ingredients, this offers up a minimum protein content of 45.45% on a dry-matter basis, which is more than enough to provide your dog with all the essential building blocks they need.
While wet dog food is almost always more appealing than dry dog food, we found this Turkey & Chicken recipe to be especially appealing. Maybe it's the chicken broth that brings out all the flavor, I'm not sure, but this definitely has to be one of, if not THE best wet dog food for fussy eaters on this list.
6. Blue Wilderness Small Breed Canned Dog Food
Looking for the best canned dog food for a small breed? We think Blue Wilderness's Small Breed Turkey & Chicken Grill option is the perfect answer.
Much like the regular formula, this premium wet dog food focuses highly on real animal ingredients, turkey and chicken, to bring a well-balanced diet that's packed full of goodness.
Given Blue Buffalo's excellent reputation as one of the best wet dog food brands, you can rest assured that all of the ingredients used are of the highest quality.
Offering up the same 45.45% minimum dry matter basis protein content as the regular formula, this has a slightly higher fat content that ensures your small breed gets enough energy from their smaller portion sizes.
It's grain-free, super appetizing to dogs, and ranks highly among owners as one of the most popular wet dog food choices at the moment. Highly recommended!
7. Whole Earth Farms Grain-Free Canned Dog Food
Another grain-free option, this Whole Earth Farms product delivers a tasty red meat recipe based on beef and beef liver. Contained in a mouth-watering beef broth, the recipe also adds peas, sweet potatoes, and carrots to balance out a tasty meal.
The feeding guidelines are easy to understand and are printed on the reverse of each can. There are five weight ranges, with the amount of canned food ideal for each given underneath. Further guidance is also given for puppies and pregnant females.
Another perk of the Whole Earth Farms canned food is the addition of a selection of carefully chosen amino acids and vitamins. Add this to the grain-free recipe that guarantees no corn, soy, or wheat is included, and you can see your dog is likely to love this tasty beef dinner.
8. Purina Pro Plan Savor Adult Classic Canned Dog Food
This fantastic low-cost wet dog food offers everything your dog needs in an affordable, well-balanced package. A 41% dry matter protein content far exceeds the AAFCO 22.5% minimum, providing your dog with plenty of important proteins and essential acids.
Dogs love this food, and the texture is perfect for releasing aromas that bring up an appetite in any pup, young or old!
Despite the lower cost, there's no need to worry about the quality of the ingredients used. Purina proudly manufacture their foods in USA and makes sure that no added color flavors or preservatives make their way into your best pal's dinner.
A Comprehensive Guide To Canned Dog Foods

Before you buy any wet or canned dog food, it makes sense to know everything you can about it. Knowing all about the dog food you're searching for makes the buying process go more smoothly. It's also more far likely you'll find the right thing the first time around.
When people start looking into wet food options for their dog, the same questions and thoughts come up time and again. Which dog food is the best? What ingredients should I choose? Do dogs really need brown rice?
We're going to answer the most common questions below and guide you towards the best wet diet for your dog. Once you've reviewed our full guide, you'll have a much better idea of what to buy to ensure your dog gets all the nutrients he (or she) needs.
Why choose canned dog food rather than kibble?
It makes sense this would be the first thing you'd think of. It's often hard to answer it too – after all, you're not the one who is going to eat it. However, there are several reasons why some pet owners prefer to feed their dog a good quality canned food over dry food.
More moisture – if your dog doesn't tend to drink too much, canned food could be a better option than dry. The increased moisture content is ideal, although you should always have a bowl of fresh water available for them, of course.
Better aroma – have you ever smelled kibble? While the high-quality stuff does have some aroma, it's never as strong as the flavors you get from canned food. If your dog is fussy, they may prefer tinned food just because it smells nicer to them.
It is airtight until opened – you might think this applies to kibble too. But those bags are never 100% airtight. The bags are also far bigger, so the air gets to the food for a long time after the bag has been opened.
Easy recycling of cans – many of the kibble bags cannot be recycled, even if they are made from plastic and you can wash them before recycling them. Not all forms of plastic can be recycled as you might think.
Easier to stack and store – kibble is often easier to store if you transfer it into stackable containers. Cans can be stacked on top of each other in small spaces. Just grab one whenever you need it.
Easier to eat if your dog is older – some dogs have teeth removed and need softer food to eat. Canned food meets this requirement, whereas kibble causes issues and could be unmanageable for some older dogs.
Of course, depending on what size and breed of dog you have, you may even be lucky in counting one can as a portion for a day's food. However, even if that's not the case, you can still decant any remaining canned food into a plastic sealed container. Just pop it in the fridge and be sure to use it by the next day to ensure it is still fresh.
Mixing things up
It's worth remembering you don't need to go for all or nothing if you're considering purchasing wet food for your dog. For instance, you don't need to feed them solely wet food – or indeed just dry kibble, if your dog likes that. You can give them a mix.
If you do decide to take this route (perhaps because your dog loves a certain kibble and canned flavor combo), be careful you don't overfeed them. You'll need to read the feeding guidelines on each pack to get an idea of amounts. A good rule of thumb is to serve 50% of the amount you'd usually give your dog for wet and dry food. Be prepared for some adjustment though.
Switching from dry to wet food?
No problem – just do it gradually. If your dog has never had wet food before, it might take some adjustment. Even if your pooch has a strong stomach, they may experience issues if you switch from dry dog food one day to wet food the next. Making a gradual change over the space of about a week should give you better results.
Alternatively, you may wish to add a handful of kibble on top of their dinner, using it as a crunchy topping when giving your dog wet food. It's another option to consider.
As you begin to explore the various options available to you and your pal, you'll notice various phrases and terms cropping up a lot:
Natural
Complete
Veterinary diet
Low fat
Grain-free
Digestive care
Homestyle
Weight management
… and so on. All these terms tell you something about the food inside the can. However, you shouldn't just count on the label telling you the food is 'home-style' or designed to give your dog multiple benefits. Always look at the ingredient list and find out as much about the food's composition as you can. This will help you choose the right food – and by that, we mean a food that is well made with quality ingredients.
Watch out for fillers that have little to no nutritional value.
Look at the crude protein, crude fat, and crude fiber percentages too. This tells you the rough composition of the food. Raw meats and real meats are usually the best protein sources. If your dog has issues digesting fiber, you know you need a canned dog food that has lower levels of fiber, for instance.
This is another important aspect to recognize and understand. Even high-quality dog food might be perfect for one dog but inappropriate for another. If your pup doesn't get along with grains, you'll need a grain-free recipe.
If they cannot digest beef, switch to a recipe with chicken or turkey instead – something easier to digest. Our dog cannot stomach beef, but she loves chicken, so we switched foods and she's happy. So are we!
Price considerations
Since you are going to regularly buy meals for your dog, it makes sense to get a good deal if you can. It's true that most wet food works out to be more expensive than kibble when all else is equal. There's more packaging involved, for starters, although as we discovered it's easier to recycle.
However, while many cans come in anything from 12.5oz to 16oz sizes, it's possible to purchase multipacks to help reduce costs. It's common to find canned dog food in cases of 12, for example. So, if you find something they love, you can at least purchase a case of it to last you a while.
Remember too that the cost of a can of dog food varies depending on the quality of the ingredients. Cheap tins can be tempting, but how good is the food inside?
Look at the feeding guide provided on each can too. Just because one brand says your breed and size of dog requires half a can a day, it doesn't mean another brand will be the same. Always compare them to see just how long a pack of food is likely to last. Of course, it also depends on whether you are supplementing their main meal with anything else. Add some kibble (often cheaper, even the better ones) and it reduces the amount of wet food you'll use each day.
Which type of wet food is best for your four-legged friend?
So… you've decided to switch to wet food, or, you want to buy canned options for your new dog. Either way, it's worth thinking about whether your dog has any special requirements.
For example, are they overweight? If so, choose a low-fat canned food designed to fill them up while supporting gradual weight loss. These cans typically include two feeding guides, so do be aware. The first guide suggests the amount to feed if your dog needs to lose weight. The second guide suggests the amount to feed if they are at the perfect weight and you want them to stay that way.
Some dogs have digestive issues even when they are a healthy weight. Fortunately, there are dog foods formulated to account for this. A balanced formula, offering the right level of fats, protein, and fiber, might also include digestive enzymes to help settle your dog's stomach.
While you want the best wet dog food for your dog each day, you may be searching for ingredients your dog loves, rather than avoiding ones that could cause problems. Some dogs have cast-iron stomachs, but they usually still have preferences for certain flavors. If your dog suffers from a sensitive stomach, you may wish to either cater for that with a specially formulated sensitive stomach dog food. If you aren't sure what's causing the upset, consult your veterinarian, and possibly consider a limited ingredient dog food diet.
Fortunately, there are canned meals available in lots of tasty flavors. Vegetables and chicken, a beef dinner (yum!), and even beef stew complete with tasty veggies to provide a complete meal. Chances are you know what your dog loves and hates, so use that as a barometer when looking for your ideal choice.
Some added bonuses
One final point to think about is whether the wet dog foods you're considering have added vitamins and minerals. Many do, and some of the better foods provide your pet with natural sources of those foods. For example, red meats are naturally rich in iron. Many good wet dog foods have added supplements in them, so you can be certain your dog is getting everything he needs to thrive.
Now you've got an overview of canned dog foods, you can see how important it is to choose the right one. Whatever suits one dog may not suit another. However, you've got the best idea of which food is going to hit the spot for your pooch. Don't worry if the first one you try isn't ideal.
Think of it as a tasty journey of discovery for your dog. They'll thank you with an empty bowl once you've found them the tastiest and well-balanced wet food on the market.
Conclusion
It's much easier to choose a tasty and balanced wet food for your dog once you know what to look for, isn't it? Our pick of the top canned foods for dogs should help you on your way.
We hope our guide highlighted the most important points to consider too. It's easy to become overwhelmed with all the options, but as you can see, it's easier to remove some of those options once you know how.
There are plenty of advantages to kibble, but many dogs always prefer wet food. Maybe yours is the same.
Did you find this article helpful?