As your dog approaches senior age, their dietary requirements alter. Energy levels naturally dip with age, and it's essential that their diet reflects this. Senior dogs require fewer calories, higher fiber content to aid with digestion, and even benefit from the inclusion of glucosamine; a naturally occurring amino-sugar that reduces inflammation and alleviates joint pain.
Join us as we take a quick venture through the options available to senior dogs, evaluating both dry senior dog food diets and canned options. Feel free to skip ahead to the food type you're most fond of using the jump-links below.
Jump to (dry):
Jump to (canned):
For the purposes of this article, the terms canned dog food and wet dog food are interchangeable.
---
Dry Senior Dog Food
Dry senior dog food is often favored for its convenience and value for money when compared to canned foods. While dry dog foods do have their benefits, it's vital that you balance convenience with adequate hydration. Consider using dry food alongside wet food to get the best of both worlds, but avoid mixing brands if possible.
Our recommendations for the best dry senior dog foods focus on getting the most nutritional value for your money. Sticking with well-established dog food brands is a sure way to have peace of mind that your dog is receiving all the nutrients they need to be strong in their old age.
The Best Dry Senior Dog Food

While researching dry senior dog foods, we put high-quality protein sources and helpful senior supplements like glucosamine at the top of our checklist. When we have our candidates, we take a step back and balance them based on value for money and personal experience with the brands. Below are the best dry senior dog foods available for providing a nutritionally complete diet for your senior dog.
Blue Buffalo Life Protection Formula Senior Food
Blue Buffalo's Life Protection Formula offers the perfect blend of quality ingredients and affordability. Their dry senior dog food contains glucosamine, chondroitin, and plenty of omega and omega 6 fatty acids to promote healthy skin and coat.
Deboned chicken is the primary ingredient and protein source, meaning your senior dog is getting high-quality protein in the exact quantities required for a healthy senior lifestyle.
This brilliant senior dog food contains no corn, no wheat and no soy; limiting the risk of stomach upset and digestive issues in elderly dogs. With a crude protein (min) content of 18.0% and a crude fiber (max) content of 7.0%, you're providing them with everything they need to stay fit and healthy long into the future.
Royal Canin Veterinary Diet Mature Dog Food
Royal Canin Veterinary Diet is considered by many to be the gold standard in specialized health formula dog foods. We're among those who hold them in such high regard. You simply won't find a senior dog food that has been researched more thoroughly than this.
The mature consult dry food featured here is (albeit rather expensive) an extremely high-quality senior dog food. Royal Canin's extensive research into senior dog food requirements (performed by world-leading animal nutritionists) has definitely paid off.
Royal Canin's sources for ingredients are well vetted and carefully considered. The inclusion of by-product meats from a brand as well respected as Royal Canin is commonplace and absolutely fine. You can expect a crude protein (min) content of 21.0%, and a crude fiber content (max) content of 8.5%. Truly top notch stuff.
Nutro Wholesome Essentials Senior
Nutro Wholesome Essentials senior dog food pride themselves on having real meat as their #1 ingredient. Doing so ensures an extremely high-quality protein source with fair less strain being put on your dog's delicate digestive system.
You'll find chicken meal listed on the ingredients, which is a common source of glucosamine and chondroitin sulfate; two vital ingredients in the best senior dog foods.
Their commitment to using only the highest-quality protein sources results in an impressive crude protein (min) content of 23.0%. Crude fiber content (max) falls a little short of others around the same price range at 4.0%, but it's enough to reap the benefits of a mid-to-high fiber diet.
Nutro's Wholesome Essentials range of senior dog foods is up there with the best available and offer incredible value for money; we highly recommend them.
American Journey Grain-Free Senior Dry Dog Food
American Journey's senior dog food has gotten an excellent reception from dog owners, and deservingly so. With a frankly staggering crude protein (min) content of 30.0%, and a price tag that is equally as appealing, it's no surprise it's become such a favorite.
For anyone on a tight budget, you'd be hard to pressed to argue that this isn't the best senior dog food around. The grain-free formula has all the expected ingredients, protein sources and supplements; so you're not compromising quality for affordability at all.
If the brand-name doesn't quite instill you with the same confidence as the other more established names on our list, then take a moment to check out the reviews by clicking through to the merchant. You'll no doubt be impressed.
Feeding Guide For Dry Senior Dog Food

A vast majority of owners use dry dog food as a part of their dog's diet. Provided you keep tabs on how much water they drink, kibble based diets are absolutely fine. There are rarely any noticeable nutritional differences between wet and dry diets when exercising proper portion control.
The most important things to keep tabs on in a senior dog's diet is the number of calories and the amount of water they're getting.
As dogs age, many owners find that dry food can become problematic. Here are a few frequent complaints.
Crunchy Kibble
By the time your dog has reached a senior age, it's more than likely they'll have a few dental issues that can affect their eating. Though many factors play a part in your dog's appetite, pain while eating is one of the most common.
Crunchy kibble based dry foods may be no problem for younger dogs, but senior dogs can sometimes struggle.
Many recommend mixing a little warm water with a high quality dry senior food to soften the kibble. Doing so will also release some of the locked up aromas and give your senior dog's appetite a little boost.
Loss Of Appetite
Dry senior dog foods are hardly the most appealing meals at a glance. An unfortunate side-effect of the long-lasting nature of dry food is that the flavors and smells stay locked in. The lack of aromas is hardly ideal for a dog struggling with their appetite.
Our recommendations for the best dry senior dog foods take this concern into account. Your dog doesn't appreciate the difference between senior food and adult food; they just want it to taste good. We've chosen dry foods that we either know to get a good reaction, or have extremely positive feedback from the communities we are part of.
As with the crunchy kibble issue, adding a little warm water to the dry food will likely solve this issue. You'll lose the benefit of longevity since it'll then spoil quicker, but it's a viable alternative to feeding wet food at every meal.
Prone To Overfeeding
Pet owners love dry senior food because it's excellent value and lasts ages. You can leave a dish out dry senior food out for your dog to eat at their leisure. This process called "free-feeding" is excellent for puppies and dogs that have no problem keeping a healthy weight through exercise.
For senior dogs, it can be a problem. Although we try our best as owners, rarely do we get portion sizes right. Especially with large bags of dry food, we're all too prone to dishing out what we think is right, without actually measuring according to the suggested portion sizes.
Canned foods often come in reasonable portion sizes, or are very easy to manage. Half a can in the morning and half a can at night are portion sizes that are much easier to accommodate than pouring kibble out of a bag.
Lack Of Hydration
As dogs reach senior age, their ability to retain water and keep a healthy balance of hydration is decreased. A lack of hydration in the dog's diet does little to help.
When feeding dry senior foods to your dog, it's vital that you keep fresh water available to them at all times. You might benefit from investing a drinks fountain to keep a fresh supply that's appealing to them around.
Keep an eye on their drinking habits and if you think they may not be drinking enough; supplement their diet with canned dog food.
---
Canned Senior Dog Food
Canned senior dog foods provide far greater hydration than their dry counterparts. Since they're packaged in tightly sealed cans, they also require less artificial preservatives and additives; which is always a bonus.
As most dog owners are aware, canned dog foods are typically much more expensive than dry foods. For this reason, we always recommend that a mixture of both dry and wet senior dog food is used to form your dog's diet.
The Best Canned Senior Dog Food

While looking through the options for canned senior dog food, we did our best to offer up what we believe to be a mix of value and quality. Where possible, we've chosen the canned versions of formulas we chose for the dry section. If you're opting to mix wet and dry foods, we recommend sticking to the same brand and formula to ensure you get all the benefits available.
Each of our recommendations provides a fully nutritious meal that makes use of the numerous supplements available to senior dogs. Below are our picks for the best canned senior dog foods that fit perfectly to the needs of an older dog.
Blue Buffalo Homestyle Recipe Senior
If you've been looking elsewhere for recommendations on the best canned senior dog food; this can will no doubt be a familiar sight. Blue Buffalo's Homestyle Recipe senior food formula offers excellent value and is widely considered one of the best wet foods for senior dogs out there.
With chicken and chicken broth as the first two ingredients, you're packing in high-quality protein sources and plenty of delicious moisture. You should have no issues with your dog's appetite once you've opened a can of this.
A respectable 7.5% crude protein (min) content is par for the course with canned dog foods, and the inclusion of adequate amounts of glucosamine and chondroitin is exactly what we want to see.
Royal Canin Mature 8+ Canned
Royal Canin's Mature 8+ canned senior dog food is the perfect companion to their dry senior formulas. With Royal Canin foods it goes without saying that the ingredient quality is as high (if not higher) than any brand in the industry.
The protein sources listed are chicken, chicken liver and pork by-products. As with the dry food, by-product meats are commonplace in high-quality senior dog foods and are absolutely fine when backed by a brand name like Royal Canin.
You'll find a crude protein (min) content of 7.5% and an impressively low phosphorus content of just 0.18% (min).
Hill's Science Diet Adult 7+ Canned
Here we have another excellent canned senior dog food from yet another industry leading name; Hill's Science Diet. Though Hill's tend to shy away from "senior" labels in favor of an Adult 7+ style label; rest assured they are essentially senior formulas.
Real meat sources make up the primary protein source, with an above-average 4.0% crude protein (min) content. You'll also find helpful supplements and vitamins for older dogs listed among the ingredients, such as biotin for healthy skin and coats.
Purina Pro Plan Focus Adult 7+ Canned
Purina Pro Plan needs little introduction to pet owners, being a brand name that consistently delivered quality into the homes of millions.
Their canned senior formula remains one of the best available today. A staggering 10% crude protein (min) along with everything else you'd expect to find in a senior food is no mean feat.
We place it slightly behind the others on our list for the simple reason that the chunks in gravy texture doesn't always seem to get the same reaction in senior dogs as a pate texture food. If your senior dog has no problem with chunks in gravy, then this is a fantastic option that offers very good value indeed.
Feeding Guide For Canned Senior Dog Food

Wet and canned senior dog food is, more often than not, a better choice than dry. You're getting much higher levels of moisture, and typically lower fat and carbohydrate content; two very important considerations for older dogs.
The concern with pet owners and wet food is often the added expense. Canned senior foods are less convenient, cost more, and spoil quicker. This can be incredibly annoying and costly if your dog's appetite isn't what it once was.
If budget is the main concern, use a mix of dry and canned food to make up your senior dog's diet. Stick to the same brand and formula where possible, since you'll otherwise be diluting the effects of important supplements that differ between manufacturers.
Let's look at a few things that you'll need to keep in mind when buying canned or wet senior dog food.
Taste
Canned senior foods give off a much more appealing aroma to dogs than dry foods do. To achieve this, many of the cheaper options on the market add quite a bit of salt to their food. As with human food, the best tasting stuff is often the least healthy.
That's not to say there aren't perfectly healthy options out there that are packed with flavor. When choosing our list of the best canned senior foods, we made sure to avoid those that have added salt but still manage to rile up an appetite in senior dogs.
Price
The best canned senior dog foods are going to be expensive. Not only is canned food almost always more expensive than dry, the added requirements of supplements that aid your dog in old age push the price up a little further.
For your money, you can expect to get foods that have very high-quality protein sources; with real meat being the first ingredient listed. Supplements like glucosamine help with joint health, while biotin aid in keeping their coats shiny and healthy. Quality costs money.
Portion Sizes
Some good news for your wallet at last; senior dogs require fewer calories. Take careful note of the manufacturer's portion size recommendations and adjust them according to your dog's ideal weight. Though senior foods are lower in calories, they're not a suitable replacement for a good weight loss food, so sticking to the right portion sizes is crucial.
If you aren't sure what constitutes an appropriate portion size, consult with your veterinarian during your next visit.
The amount you'll need to feed your dog differs enormously depending on their weight and activity level. A 4lb dog with a low activity level may need only one 5.8oz can a day, while a 22lb dog with a more active lifestyle may require more than four cans a day.
---
Choosing The Best Senior Dog Food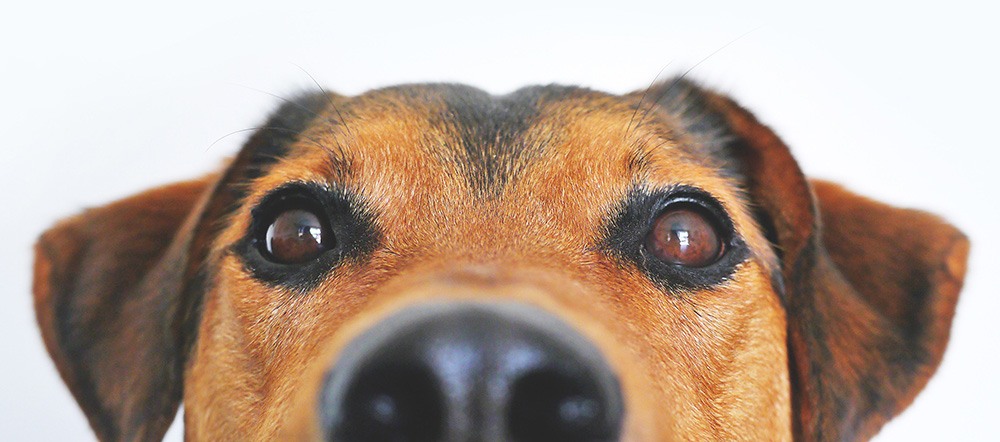 When it comes to choosing what senior dog food best serves your dogs' individual needs; no one can help more than your veterinarian. Veterinarian recommended foods are freely available from well-known retailers, but choosing a diet that gets the most benefit for your dog can only be done with a thorough understanding of their condition and requirements.
As for you, the best you can do is educate yourself on the standard requirements that senior dogs have. Part of this means getting a rough grasp of which supplements in senior dog foods are most beneficial.
Understanding The Nutritional Requirements Of Senior Dogs
Senior dogs have less active lifestyles, and the amount of calories they require daily reflects this. Obesity in elderly dogs is a common problem, as owners fail to adapt from an adult diet to a senior one.
Almost all of the leading senior dog food brands have the following properties in common:
High-quality protein sources
Large amounts of protein relative to fat and carbohydrates
Lots of fiber to aid with digestion
Glucosamine and chondroitin for joint health
L-Carnitine supplement to keep heart disease at bay
Outside of these fairly standard inclusions, the different formulas conjured by each brand excel in different areas. Blue Buffalo products have become well known as excellent all-rounders, but premium brands such as Royal Canin often target specific ailments. There's something out there for every dog, and a chat with your veterinarian will help decide what's best for you.
Sticking with well-respected dog food brands ensures that the senior dog food you choose will provide your dog will all the crucial nutrients they require to live a long healthy life.
Senior Dog Food vs Adult Dog Food

By now, you should have a reasonable understanding of the different dietary needs that senior dogs have when compared to adult dogs. In case you've skipped here, lets (very) quickly recap.
Less calories for less active lifestyles
More protein than fat and carbohydrates
High fiber content to aid digestion
Plenty of moisture and hydration
Supplements like glucosamine to alleviate age-related complaints
You can expect all of these considerations to have been taken into account by the nutritionists who formulate the senior dog foods for every top brand.
Specially formulated senior dog food can make a world of difference to your dog's quality of life as they grow older. By following along with the manufacturers and your veterinarian's portion suggestions, you can keep them happy and active for as long as possible.
What Qualifies As A High-Quality Protein Source
We've established that in order to thrive in old age, senior dogs need protein from high-quality protein sources. Why is this so important? And what is a "high-quality" protein source?
Well, to put it bluntly, the primary source of protein in any dog's diet should be meat — real whole meats, rather than by-product meats if possible.
By-product meats aren't harmful by any means, but in brands that are not well-established, the source of by-product can meats can be questionable.
Ensuring your senior dog has protein from a high-quality source means that their digestive tract has to do far less work to extract good old protein. With age, the digestive system becomes slightly less efficient, so helping your buddy out with high-quality senior dog food is the least you can do.
Switching To A Senior Dog Food Formula

Read up on any manufacturer's website and you'll see the same suggestion. Transition slowly from the current food to the new senior formula.
Even for younger dogs with fully functioning digestive systems, a sudden switch in diet can cause a big upset. Couple this with a digestive system that isn't firing on all cylinders, and you'll both be left unhappy.
Take your time introducing the new food in small portions, starting with 10 to 15% of the new formula alongside the existing food. Each day, gradually increase the ratio of new food to old. Keep this up for a week at least for the best chance of a seamless switch with no stomach upsets.
Our Conclusion
Wet or canned, opting for specially formulated senior dry dog foods is absolutely worth the marginally extra cost.
Not only are you providing your dog with a diet that balances their weight better by reflecting their slowing metabolic rate, but you're also helping to alleviate common complaints such as joint pain by including the necessary supplements.
Choose from our list of the best senior dog foods and you won't go far wrong. Discuss any changes with your veterinarian before committing to a diet change, and be sure to transition to new brands and formulas gradually, over a week or more.
Did you find this article helpful?